Ad blocker interference detected!
Wikia is a free-to-use site that makes money from advertising. We have a modified experience for viewers using ad blockers

Wikia is not accessible if you've made further modifications. Remove the custom ad blocker rule(s) and the page will load as expected.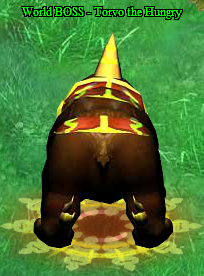 Torvo the Hungry is found in Kaymo Mountain, L1, at 14:00 (2:00 PM) and 19:00 (7:00 PM) server time, in the bottom right hand corner.
Recommended party size: 10+
Recommended Level: 24-34
Monster Level: 29
If you are more than 5 levels above or below the level of Torvo the Hungry, drop rates will be negatively affected (the larger the level gap, the lower the drops)
Reward: Pristine equipment set components, Epic equipment, Essence, other rare shop items
Title: Strong as a Bear