Soul advances
Introduction: The Soul is an upgrade system that provides permanant boosts in your characters stat .The soul can be upgraded using a variety of different materials. There are six categories of souls and each has 7 sub categories except for orange which only has 5.
The Soul upgrading interface can be opened by clicking Soul on your character page, or by clicking the Soul icon by your Heath Bar.
You can only start upgrading your soul at level 30.
Soul does not reset upon rebirthing into plane Scion or above.
Advancement boosts include: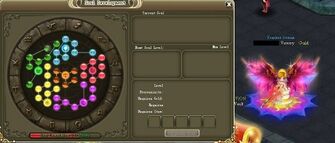 P-ATK %
M-ATK %
P-DEF %
M-DEF %
CRIT DEF
ATTRIBUTES
CASTING SPEED %
ATTACK SPEED %
MOVEMENT SPEED
Materials Needed to Upgrade:
Types of Souls:

Max soul looks