Seiryu is an epic two persons mount that can be obtained through the Black Dragon Hunt for 7 days. It is also possible to get a permanent one in the game, by trading 75 Therion with Ronna the Adventurer at The Tree of Life.
Quality : 10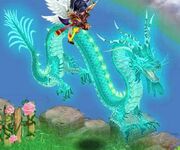 At Level 1, Bonuses List:
HP Player +55,8%
Atack Player +43,4%
Defense Player +57,9%
Heal Player +49,6%
Movement Speed 260
Ad blocker interference detected!
Wikia is a free-to-use site that makes money from advertising. We have a modified experience for viewers using ad blockers

Wikia is not accessible if you've made further modifications. Remove the custom ad blocker rule(s) and the page will load as expected.