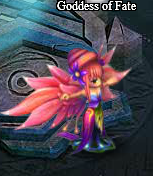 The Rebirth Expedition is a quest available to players who have rebirthed to the plane Scion or above.
Overview
The daily Rebirth Quest (RBQ) is recieved by visiting the Goddess of Fate in Tyria Village. The quest may only be accepted once a day, if you fail to complete the quest on the first day you can complete it the next and afterwards attempt that day's quest.
If you are not high enough level to reach the Fallen Angel or Amarog, you may talk to the Goddess of Fate and she will teleport you to the appropriate zone.
The reward for completing the quest is a Rebirth Pack.
Possible Quests
Kill Crystal Ladder Monster(s)
Imperial Skeletal Guardian(35)
Slitheronia (40)
Kill a World Boss
Collection
Rebirth Pack
The Rebirth Pack gives you three random rewards from the following:
Ad blocker interference detected!
Wikia is a free-to-use site that makes money from advertising. We have a modified experience for viewers using ad blockers

Wikia is not accessible if you've made further modifications. Remove the custom ad blocker rule(s) and the page will load as expected.