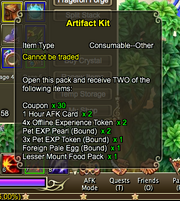 Item Type: Consumable-Other
Cannot be traded
Open this pack and recieve TWO of the following items:
Coupon x30
1 Hour AFK Card x2
4x Offline Experience Token x2
Pet EXP Pearl (Bound) x2
3x Pet EXP Token (Bound) x1
Foreign Pale Egg (Bound) x1
Lesser Mount Food Pack x1
Obtain: Complete Bone Voyage!
Ad blocker interference detected!
Wikia is a free-to-use site that makes money from advertising. We have a modified experience for viewers using ad blockers

Wikia is not accessible if you've made further modifications. Remove the custom ad blocker rule(s) and the page will load as expected.